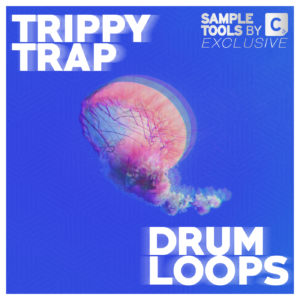 There is no doubt that Trap and Hip-Hop are two of the biggest genres in the game right now! Artist like Drake and Travis Scott are topping the radio charts everywhere, and the more heavy trap producers like NGHTMRE and Snavs are playing high profile gigs at big clubs and festivals. So, to coincide with our recent Trippy Trap Drum Loops release, in this blog post we'll give you our top 5 ways to make your Trap beats sound more exciting and professional.
Check out the sample pack here: Trippy Trap Drum Loops
1. Kick & 808 Madness
The fundamental elements of any Trap beat are the kick and 808 bass. Therefore, it is essential that these two are carefully selected and compliment each other. The kick will provide the initial punch and the 808 will add weight and energy.
You want to choose a short punchy kick that doesn't have too much of a 'click'. Your 808 bass needs to be beefy! And depending on what you are going for you can choose a clean warm sound or a more gritty aggressive 808 sample. Choose an 808 that sounds best on the root note of your key (because this will be the most played note).
Side chain your 808 to the kick to make sure the low frequencies don't clash!! An alternative is EQ'ing out the low frequencies of the kick, however we recommend the side chaining method. You might still want to fine tune your kick and 808 to make sure they punch through nicely, but once you've got them working together you can start programming your beat.
Usually the kick and 808 hit together, however you can also switch up the beat by sometimes just having the 808 or kick hit by themselves (see example below – drum loop 9 from Trippy Trap Drum Loops). This will create some nice variation to keep the beat interesting.

2. Gliding 808
You've got your beat, the 808 is fat and you've got some nice rhythms going on. However, something is missing…your beat is sounding a bit monotone. A good way to add some melodic excitement is to put glides and pitch bends on your 808.
The easiest way to do this is to drag your 808 sample into a sample instrument (like the ESX24 in Logic) and enable the pitch bend function. Then simply draw in the pitch bends manually and you'll instantly get more of a vibe in your beat. Jumping between octaves, with the glide set to about 70ms, is also a good way to groove up your drum loop.

3. Snappy Counter Snare
With most trap beats you have the snare hitting on the 2nd and 4th beat of the bar, or on the 3rd beat of every bar if you're producing in double time. Now if you want to spice up your beat you can add a second slightly more snappy snare on the off-beat to counter the main snare. This instantly gives that poppy hip-hop vibe to your beat. Furthermore, if you pull those snare hits slightly off the grid, you'll add some groove too. See the example below (Drum Loop 10 from Trippy Trap Drum Loops).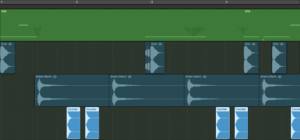 4. Groovy Hi-Hats
Your Hi-Hats keep your beat moving and help to create the groove. You thus want to avoid having a plain 1/8th note pattern throughout your beat. Try to include a mixture of 1/4th, 1/8th, and 1/16th notes, and add in some hat rolls to pull you into the beat.

Another way to make your hats more interesting and to add an extra dimension is by including different hat samples, so that not every hit sounds the same. You can also use a sampler so that you can control the pitch of the hats (see example below). Adding FX like panning, phaser, delay, and reverse hats are more ways to spice up your hats to make them stand out!

5. Perky Percussion
For the final touch on your Trap beat, add some percussive hits. These can be very subtle or they can be in your face, depending on what you like. When adding percussive elements, it's a good idea to pan them so that you fill up the stereo spectrum. Panning the percussion and hats will also help to excite the listener, and make the beat more interesting to listen to. Toms, Crashes, Rides, Side Sticks, Wood Hits, etc, are all thing that can help to dot the i's on your Trap beats.
__________________________________________________________________________
PLATINUM PRODUCER MEMBERSHIP
We introduce to you – the Platinum Producer Membership – a monthly subscription service giving you access to absolutely everything in our catalogue – more than 100,000+ sounds, as well as exclusive content from established artists. Find out more here and start your 10-day free trial now!
CR2 MASTERING & MIXING SERVICES
Would you like to have your track mastered? We offer mastering and mixing services by our in-house mastering engineer who has 14 years experience in the industry. He's released on labels such as Virgin EMI, Atlantic Records, Sony, Cr2 Records amongst others, and he's mixed music for Netflix TV shows and mastered tracks for clients such as Nile Rodgers, Second City, Dillon Francis, Snoop Dogg and Eats Everything.
Check out our services here: Mastering by Cr2
Home   –   News   –   Cr2 Records