Sample Tools by Cr2 presents to you ST2 In Session, a brand new series consisting of exclusive Q&A's with featured artists. ST2 In Session is especially designed to give you a deeper insight into how artists go about their productions, and how they cope with obstacles along they way during their music creation. In our first issue we have invited dance duo Tough Love to take us through some of their production processes with some special attention to their newest release 'Crazy' featuring Willemijn May.
ST2 IN SESSION: TOUGH LOVE
The London based duo have been at the forefront of the house scene for some time now since they started out in 2011. Their distinct production, together with energetic and bass-heavy DJ sets, has created a cult following of hard-core fans across the UK and beyond. Their sound is instantly recognisable in their production hard-hitting grooves accompanied by crisp drum layers & undeniable danceability.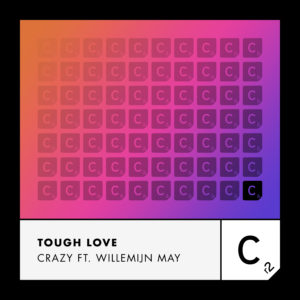 1. Hey guys! Thanks for taking the time to speak to us today and congrats on your latest release 'Crazy' with Willemijn May! How did you guys link up to make this record? Have you worked together in the past?
Thank you, we actually had a demo idea for this record prior to meeting and was testing it out in our sets early 2019. It was being received well in the clubs but it didn't feel complete. Just before ADE we always book into writing sessions with our team at Warner Chappell just outside of Amsterdam. Willemijn had been on our radar for a little while, so the team organised a day for us to vibe together at the amazing Wisseloord studios & 'Crazy' was one of the results from that session. Her choice of tea is debatable but she really is an amazing person to work with.
2. The piano hook in this track is super catchy. How do you come up with your hooks? Are you musically trained or do you use any MIDI VST's to help when writing? Any tips you can give to aspiring producers struggling to write something so catchy?
Neither of us are actually musically trained, we're both self-taught, although Stef is pretty handy on the keys! We normally start with a simple collection of chords that create the right mood and build from there. There have been occasions where we'll use a simple midi file or even just a sample to write melodies & toplines, but then we'll get into the more intricate parts of the production and make it our own. Our best advice to anyone struggling to write something catchy is to try and not overthink it, get as many ideas down as possible because sometimes elements of each idea can merge together perfectly or work for another project down the line.
3. The lead vocal sit extremely nicely on top of this record, they're very well mixed. What's your advice to any producer who is finding it difficult to mix vocals? 
Vocals can be extremely tricky, we record our vocals as flat as possible. So minimal room acoustics & processing. We then add the FX process to it afterwards. You have to treat every vocal as its own instrumentation. Its great if you have your go to presets at the ready but you really can't bank on those working for every record or every voice, so experimenting always helps. The song catches a listener's ear as much as the music so it has to be heard and we like the song to work alongside the production and sometimes just on top in terms of volume, but that's depending on the voice.
4. Are you guys in the box or do you work with a lot of hardware? 
We're not gear snobs or hardware advocates. We're very much about getting the job done whichever way necessary. Pre COVID, we would normally be on the road nonstop. That means a lot of our production is done on the move so in the box works perfectly for us. Once we're happy with a record we bank it & tweak it in the studio at a later date. There're a couple things you can't really cut corners with though, that's a decent set of monitors, a quality soundcard & microphone. There are plenty of affordable options on the market.
5. One thing that's very noticeable in your tracks is the power of the kick and bass, they're always very punchy and well mixed. Do you have any secrets or any go to plugins you use?
It's dance music so the core of the record is generally built around the kick and bass. We're not sample snobs either and sample packs are your friend. Why spend hours trying to curate the perfect kick when it has most likely already been uploaded to a sample pack or online community in the correct key, processed and ready to go? Bass is a different matter; each record is different so sonically the bass has to compliment the rest of the elements. Serum, Massive, Nexus, Sylenth, Sub Boom, Lethal etc Anyone of them and more can create exactly what is needed. Just find one that works for you. Sample packs can once again come into play. If you're looking for a hardware sound such as a moog bass, there's a good chance it's been sampled and can be dragged into your DAW or sampler of choice.
6. Do you ever come face to face with writers block? If so, what's a good bit of advice to help people get passed this?
Of course, everyone hits a wall at some point. You can walk into a session with the best intentions and then BLAM, 6 hours later you're still staring at an empty project. It can come out of nowhere and we've learnt not to force it. Occasionally well stop, look at admin or artwork that needs to be done and take the pressure off ourselves. It could simply mean taking a walk to the coffee shop, or watching a film. Or it might mean a week or more away from the studio. It's really easy to get overwhelmed not just with workload, but also with life. In the modern era where technology is everywhere it can become exhausting, so sometime you just need a long weekend to recover from the routine. On the flipside you can have days where everything flows perfectly and you walk away with two or three records/ideas in a day.
7. We feel like the world has been put on hold this year with all the issues caused around Coronavirus. What's one thing you're looking forward to when things start to return to 'normal'?
You can say that again! Its been a tough year for us, we've been split between LA & London which has added complications but as always, we're managing to get through it. It's most definitely getting in the way of us just having fun together and being creative in the same room. So, when we go back to some level of normality we'll take some time to enjoy the social side of life and not worry too much about work. Like so many DJ's and entertainers, touring has had the biggest effect on us all. Being in a club, on stage, engaging with people on the dancefloor & showcasing our new music is truly missed. That social aspect of being a DJ brings so much positivity and good energy not just for us, but a whole community & we can't wait for that to return. Fortunately, we've stayed super active this year, finishing off multiple projects, and more importantly, finishing off our first studio album to celebrate 10 years of Tough Love in 2021 so we're praying to the nightlife gods (because Boris isn't listening) to open the doors so we can tour the album and make some amazing new memories.
Tough Love Sample Selects
If you haven't yet, go check out the Tough Love Sample Selects. In their  Sample Selects, Tough Love have hand-picked their favourite sounds from the Sample Tools by Cr2 catalogue.
---
PLATINUM PRODUCER MEMBERSHIP
We introduce to you – the Platinum Producer Membership – a monthly subscription service giving you access to absolutely everything in our catalogue – more than 100,000+ sounds, as well as exclusive content from established artists. Find out more here and start your 10-day free trial now!
You can also purchase a full year of the subscriptions service for only half the price here: Platinum Producer Pro – 50% Off!
LATEST RELEASE: HOT HOUSE ELEMENTS:
Introducing, Hot House Elements – an essential sample collection bringing together everything from drum grooves, deep club basslines, quirky synth loops, killer FX alongside our trademark songstarter construction kits.
CR2 MASTERING & MIXING SERVICES
Would you like to have your track mastered? We offer mastering and mixing services by our in-house mastering engineer who has 14 years experience in the industry. He's released on labels such as Virgin EMI, Atlantic Records, Sony, Cr2 Records amongst others. Mixed music for Netflix TV shows and mastered tracks for clients such as Nile Rodgers, Second City, Dillon Francis, Snoop Dogg and Eats Everything.
Check out our services here: Mastering by Cr2
Home   –   News   –   Cr2 Records