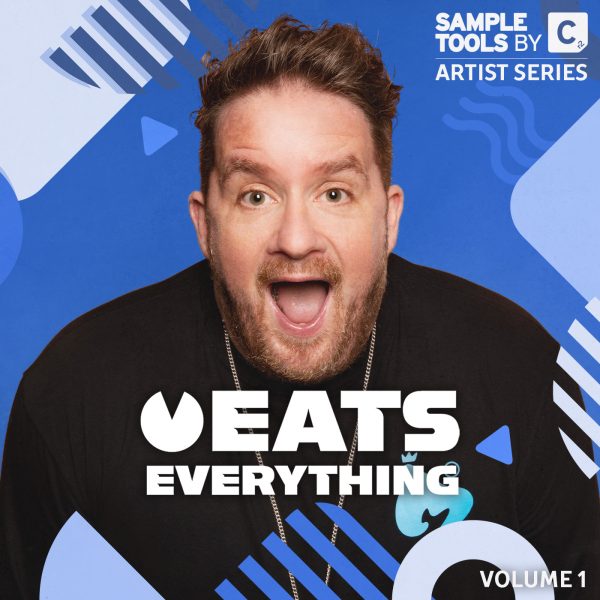 Eats Everything Vol.1 (60% OFF BUNDLE)
Our next explosive sample pack in the Sample Tools by Cr2 exclusive artist series features none other than the eminent Eats Everything! Bursting with energy, and cooked up by the renowned DJ/producer himself, this pack gives you an exclusive taste of the unique sound that… read more
Full pack
Add to basket

60% OFF THIS EXCLUSIVE BUNDLE PRODUCT.

This package includes Eats Everything Volume 1, Eats Everything Volume 2, his production masterclass as well as Disco Tex, Festival Techno and 90s Rave.

– Full product description further down the page – 
Included in this pack
£

24.99
Add to basket

This sample pack gives you an exclusive taste of the unique sound that sets Eats Everything apart from the rest.

– Full product description further down the page – 

£

34.99
Add to basket

Welcoming the legendary Eats Everything! This package includes the sample pack as well as his production masterclass. 

– Full product description further down the page – 

£

14.99
Add to basket

In this exceptional production masterclass, Eats Everything offers an exclusive glimpse into his process of crafting high-octane club and festival tracks. Gain invaluable knowledge from this seasoned expert through his comprehensive video course.
Product Description
Our next explosive sample pack in the Sample Tools by Cr2 exclusive artist series features none other than the eminent Eats Everything! Bursting with energy, and cooked up by the renowned DJ/producer himself, this pack gives you an exclusive taste of the unique sound that sets Eats Everything apart from the rest.
INTRODUCING: EATS EVERYTHING
While having a global reputation in both house and techno, Eats Everything's roots are firmly embedded in the garage, breaks and jungle of the music scene from his hometown, Bristol. After getting involved with DJ'ing from a young age he started producing high-quality productions soon after, with his career-defining moment undoubtedly being 'Entrance Song' back in 2011, which catapulted him into the limelight. Since then his array of infamous 'Rebeef' mixes, edits, originals cuts and collaborations demonstrate his production abilities and lay the foundation for his extensive back catalogue. 
Eats Everything can now be found playing at Resistance, Elrow, Warehouse Project, EDC, Printworks, Boomtown and the odd very special b2b set with Fatboy Slim. An accomplished producer and remixer who is featured on PETS & Dirtybird, Desolat & Intec, Ovum & Kneaded Pains, FFRR and both his own labels Edible and EI8HT. Furthermore, Eats Everything regularly covers for Danny Howard on BBC Radio 1, alongside hosting his own Edible Beats which is broadcast to over 90 stations worldwide.
Humble, good-natured and full of endless laughs. Eats Everything continues to attract a dedicated army of loyal followers and family all over the world, and whilst there are many sides to Eats Everything, his core is the essence of rave culture.
ABOUT THE PACK
This stellar sample pack contains over 200 detailed audio samples all produced by Eats Everything himself, exclusively providing you with his signature sound. The pack includes a wide range of loops and one-shots to cover the full creative spectrum that Eats Everything has got to offer.
Expect to find a selection of highly versatile sounds including deep pumping bass loops, quirky synth loops, thundering bass hits, as well as carefully designed synth hits. And it doesn't stop there as Eats Everything has also included a profound collection of punchy drum hits (made up of kicks, claps, snares, hats and percussive elements), and groove inspired drum loops to which you will be bopping your head instantly.
As if all of that wasn't enough, Eats Everything has produced four incredible Songstarter kits, giving you a first-hand insight into how he creates his energetic club and festival records. Like always, each Songstarter kit is bounced down into all corresponding stems, giving you all the tools you need to get inspired and put together your own high-quality productions. Get a taste of Eats Everything with this exclusive sample pack, all 100% royalty-free, and take your music production to new heights.
We are Sample Tools by Cr2 and this is… Eats Everything Vol. 1!
__________________________________________________________________________________________________________________
PLATINUM PRODUCER MEMBERSHIP
We introduce to you – the Platinum Producer Membership – a monthly subscription service giving you access to absolutely everything in our catalogue – more than 100,000+ sounds, as well as exclusive content from established artists. Find out more here and start your 10-day free trial now!
You can also purchase a full year of the subscriptions service for only half the price here: Platinum Producer Pro – 50% Off!
CR2 MASTERING & MIXING SERVICES
Would you like to have your track mastered? We offer mastering and mixing services by our in-house mastering engineer who has 14 years of experience in the industry. He's released on labels such as Virgin EMI, Atlantic Records, Sony, Cr2 Records amongst others. Mixed music for Netflix TV shows and mastered tracks for clients such as Nile Rodgers, Second City, Dillon Francis, Snoop Dogg and Eats Everything.
Check out our services here: Mastering by Cr2
Home   –   News   –   Cr2 Records